Limits the use of mobile networks in statistical CSO
"OMEGA" Technology Agency of the Czech Republic
Identification of contract: TD03000452
Documents
Available in only in Czech.
Download:
Certified methodology. "Výsledek projektu TD03000452 NmetC, metodika certifikovaná oprávněným orgánem  Limity využití mobilních sítí ve statistických šetřeních ČSÚ"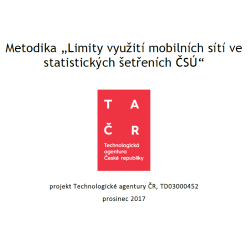 Specialized map with professional content. "Výsledek projektu TD03000452 Nmap – specializovaná mapa s odborným obsahem"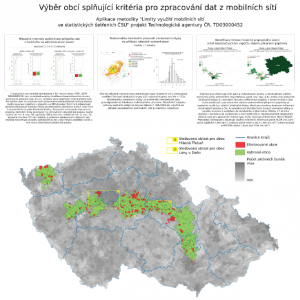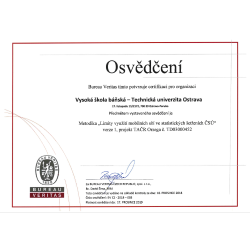 Place and date of implementation: Praha, Ostrava, 2017
Summary
Contemporary social cornerstone is that the actions and policies in the public sector should lead not only in the Czech Republic but also across the EU to a new economic growth. Successfully face innovative challenges, resulting in a so-called smart and sustainable economy that promotes social inclusion, also means taking advantage of new smart solutions for decision-making. New technology reduces deficits in operational and strategic decision-making process and unavailability, outdated, or too costly procurement of data. The project aims to verify to what extent can be identification and classification of the population based on aggregated data information from mobile networks and how can the technology complement or replace existing investigations carried out mostly by the Czech Statistical Office.
The project will verify the reliability and accuracy of the information collected based on the analysis of aggregated data of mobile networks, especially in the aspects
relating the totals from the sample to the entire population,
accurate localization of observed phenomena in relation to a geographically delimited territory (basic administrative unit)
stability over time-based on the reporting period (time of day, month, season), and for different types of solved tasks.