The research team, which in December 2016, in cooperation with the Ministry of Transport, completed the certification of the methodology "Specific system of passenger´s check-in and number of transported passengers" can offer you experience in implementing the acquired knowledge. The methodology develops ITS systems in the field of processing of signaling data for mobile telecommunication networks. Allows to determine the proportion of public transport in the total transport flow.
---
How can the methodology be used?
The new knowledge of conditions in the territory is represented by the knowledge of so-called 100% transport demand on a particular fixed route.
The key question, to which this information provided the answer, is whether the number of transported passengers on individual fixed routes correlates with the figures and dynamics of the total transport demand of the given relation.  Answering this question is important for further steps which result in business-operation measures.
If differences occur, can we justify them?
If so, can we influence them?
Where business-operation measures have been implemented, what is the outcome?
A share of passengers traveling by trains on transport demand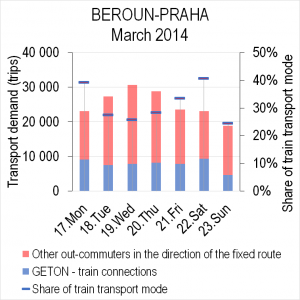 Analysing the set can provide answers to questions such as "which passengers composes the peaks", "how big is the participant group who could but do not use railway transport". These groups are clearly identifiable at the first sight due to concave vs. flat behaviour of the changes in overall transport demand or checked-in passengers on Beroun – Praha fixed route.
Better use of public transport capacities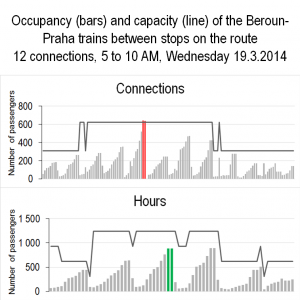 Is it possible by better organization of transport work, informing the participants of the transport network or business policy to make better use of existing capacity? The theoretical solution of the situation is the distribution of the occupancy of two connecting links during traffic peak, the effect of which is illustrated. Breaking peak load within one hour of day would solve the problem of insufficient connection capacity.
More than 20% increase of passengers using public transport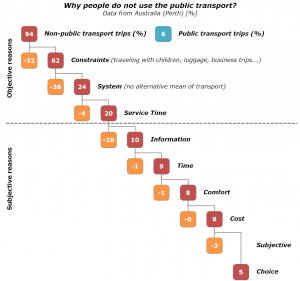 Experience from abroad shows that there are 20-24% of journeys in the transport network for which the choice between public and individual car transport is made on the basis of factors that do not necessarily mean a significant increase in the production capacity limits (infrastructure investments, etc.). Targeted communication with customers, optimization of timetable and increased travel comfort can affect a significant proportion of transport demand in favor of public transport.
Contact: doc. Ing. Miroslav Vozňák, Ph.D. (miroslav.voznak@vsb.cz)